Geo-Fencing
Boost Your Direct Mailing with Geo-Fencing Digital Ads
What is Geo-Fencing
Geo-fencing is a technique used to draw virtual boundaries around a real-world location. Think of your city and a particular store or location. Now draw a circle around this location. Make it as small or large as you want. This boundary you created is a Geo-fence.
What is Geo-Fencing Marketing
Geo-fencing marketing allows you to advertise to target audiences in a specific set boundary around your location. Ads will be seen by customers at the right time and place. By serving ads based on customer's geo-location, you can increase the odds of targeting people interested in your product or services. As a result, maximizing your return on ad spent. Geo-fencing cuts down on advertising waste because it targets the right customers within a specific area.
Take Advantage of Competitor Geo-Fencing
Target your competitors with competitor conquest geo-fencing: Target customers who are currently visiting or previously visited one of your competitor's locations within the last thirty days.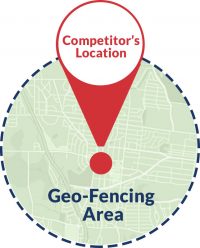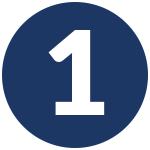 A virtual boundary is drawn around a physical location or created via a GeoJson file upload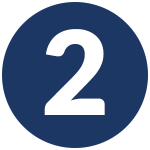 A customer enters the geo-fenced location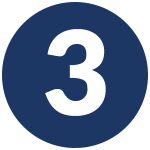 A customer is served ads from the campaign
What Industries Are Best Suited For Geofencing
While Geofencing Marketing can be successful for every industry out there, businesses that have potential customers located in proximity can see a higher rate of success. These industries include Brick & Mortar, District-Specific Entities, Venue-Based Entities, and Travel.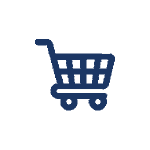 Brick & Mortar
---
Auto
Quick Serve Restaurants
Insurance Agents
Retail
Hospitality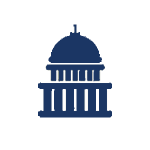 District-Specific Entities
---
Political Parties and Candidates
Municipalities and Counties
Civic Groups
Community Organizations
Hospitality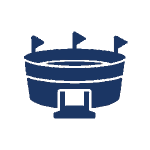 Venue-Based Entities
---
Sports Arenas & Stadiums
Concert Halls
Amphitheaters
Convention Centers
Collages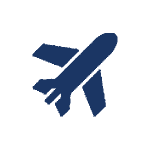 Travel
---
Airports
Truck Stops
Train and Bus Stations
Hotels and Resorts
Tourist Attractions
Looking For More Information?
Ready to Start Boosting Your Mailing Campaign with Geo-Fencing Marketing? Contact Us Today