School Starts Early

for direct mailers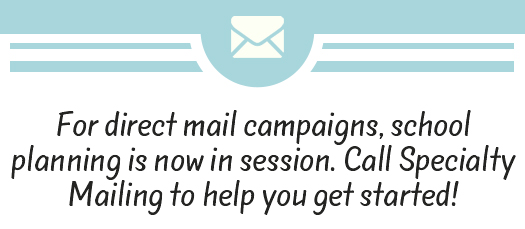 It may seem like school just wrapped up but now is the time to prepare your direct mail back-to-school campaign.
If you're mailing locally, or by school districts, consider including an academic calendar on your postcard. Add a reusable coupon or continuous discount and your mailers will stay on kitchen message boards and refrigerators for weeks and months. Your customers will form habits by referencing their calendars for special dates and grabbing their savings cards before heading to the stores.
It's not just primary and secondary schools going back in the fall. College planning and purchasing is an event that covers several weeks. Don't miss out on these multiple promotion opportunities. Consider including a College Essentials List and Recent Graduate Discount on your mailer.
Churches, Synagogues, Athletic and Social Clubs often follow the traditional school calendar. Program sign-ups are plentiful with postcard reminders. Include early-bird registration markdowns, family discounts, and important dates to increase participation and attendance.
Want to increase your coupon, fundraising, program, and promotion participation? Repetition is Key! Plan on a card a week over the course of a month and offer something new each time. Use special crossover and double coupon days for a little extra incentive to visit your store. For direct mail campaigns, school planning is now in session. Call Specialty Mailing to help you get started.