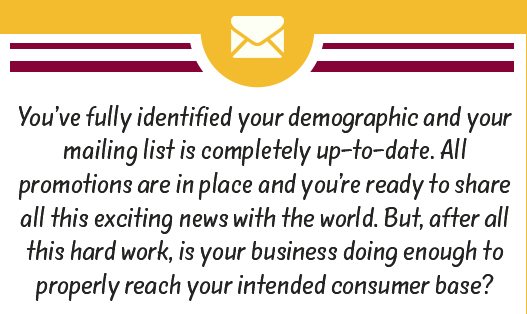 While quality content is considered one of the most essential aspects of a good direct mail campaign, frequency can also be a decisive factor in the success of your advertising efforts. As we approach the Fall season, consider using the 'Three Drop Rule' to ensure that your messages resonate with consumers.
Attention – The first mailing is meant to gain the attention of your audience.
Recognition – The second mailing is when your campaign will be recognized by your audience.
Action – The last mailing is when your audience will most likely take an action and make a purchase.
Start by making your presence known. Get attention by providing potential shoppers with your company's latest news and occurrences. Once you've introduced your company, keep the momentum going by refreshing shopper's memories with a follow-up mailer. Frequency is crucial to rising above the noise. More views means greater recognition, thus giving your campaign a greater chance to succeed. Your final drop of the season needs to focus on action. Promotions and special offers can be great motivators and exactly what your company needs to get shoppers to your website and storefronts. Let Specialty Mailing help you with your next campaign!